UPTOWN
Hand Embellished, Giclee on Canvas
195 S.N. 25 APs
16" x 50"
It's another night on the town with contemporary artist Michael Flohr. But this time we are going "Uptown", where the hip and trendy nightspots entertain the locals with a savvy and flair defiantly for the people who inhabit the surrounding neighborhoods. Check out the hottest new bands, take in a poetry reading, have a latte or a chocolate martini. Whatever you Fashionistas crave, you can find it "Uptown".
Bursting with Flohr's signature color palette of bold hues: the indigo and deep purple of the night juxtapose with the vibrant orange and yellow that light up the hot spots. The street even sparkles like a sizzling dance floor. While a group of friends take to the street, we'll find out what's happening Uptown. It's Flohr's quiet celebration of understated affluence and cozy reunions. Not far from home, "Uptown" toasts to the local restaurants and pubs where everybody knows your name and the names that keep coming back. Afterall, "Uptown" isn't for everybody - only those who know what's up!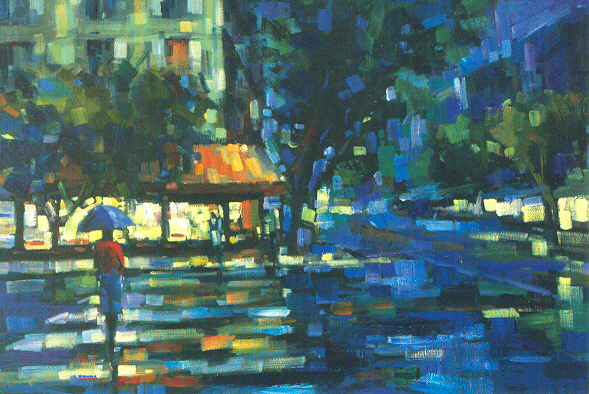 PARISIAN NIGHTS
Hand Embellished, Giclee on Canvas
195 S.N. 25 APs
22" x 29"
Contemporary painter Michael Flohr's "Parisian Nights" is the quintessence of an evening of true "joie de vivre" on a rainy night in Paris. Illuminated by the lights of the Eiffel Tower in the distance, passion and intrigue lurk in the shadows of the Arc de Triomphe. A kaleidoscope of color covers Flohr's canvas as he recalls the magic and mystery of this fateful Paris night. The composition for this work was captured via photograph during a late night dinner rendezvous at a Paris café, with his wife, Melissa. The artist found himself captivated by his fascination with Paris - its architecture, history and aura of romance. Spurred by creative inspiration, Flohr was compelled to walk the streets as he awaited his meal to be served. Consumed in his reverie as he photographed every nuance of this enchanted city, Flohr soon found himself lost in the streets of Paris. A gentle rain began to fall. He treks for hours to find his way back to the café, all the while enjoying a certain "je ne sais quoi" (I don't know what) as he found himself, though lost, fantastically aware of the carefree joy of Paris life. Ironically, "Parisian Nights" possesses a visual ambiguity of time and place. As if it could be anywhere one's passion and intrigue may lead them - anywhere one can find their true "joie de vivre" on a seemingly lost, rainy night.
SOLD OUT EDITION
We have 1 available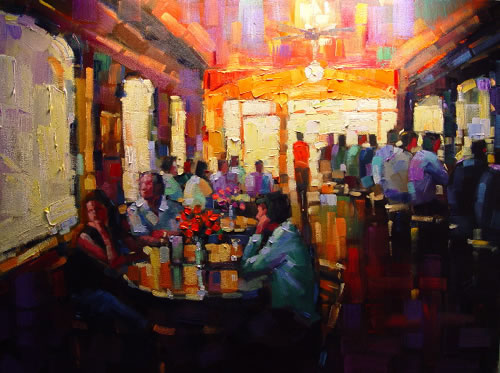 SUNSET GRILL
Hand Embellished, Giclee on Canvas
195 S.N. 25 APs
36" x 48"
SOLD OUT EDITION
We have 1 available
Imagine a place -- warm and cozy, filled with familiar, friendly faces, good food for the asking and libations of your choosing. Music to soothe even the weariest of troubled souls and an atmosphere that welcomes anyone who walks in the front door. Hear the distant rumble of the ocean tide and feel the warmth of the setting sun as its rays reflect through the windows putting an end to the day. Such are the makings of an artist's fancy --- and fantasy. Contemporary painter Michael Flohr's "Sunset Grill" is just such a fictitious scenario, yet one that has played countless times in his personal reality. He effortlessly captures these timeless moments in a painting that is ambiguous yet familiar. He successfully renders a welcoming place were we all have been before – and hope to go again. And again you will -- for each time you glance at this beautiful work of art, you will be drawn to the comfort of old friends, the tranquility of leisure time and ultimately, nourish your soul. With an endless palette of color applied like a tapestry of texture, Flohr furiously replays these simple moments in his mind, capturing all the nuances of pleasure and satisfaction, warmth and relaxation. Through depth of color and composition we are drawn into the scene. The figures in the forefront seem to relish in the silent reverie of the moment. Perhaps contemplating the day, or just being. Come in. Have a seat. And enjoy the peaceful, easy feeling of just being with Michael Flohr.

Michael Flohr paints in a style called urban impressionism. His atmospheric street scenes are brilliantly composed with bold color applications and fascinating narrative lines.
It is a rare and celebrated occasion when an artist is discovered that has a unique talent, fresh vision and exceptional ability to transcend artistic predisposition. Painter Michael Flohr is just such an artist. Flohr's work is a visual adventure. Not only in its exquisite beauty, obvious artistic integrity and the emotion elicited in every work of art, but in the artist's ability to effect the invention of a genre unique and true in and of itself in today's contemporary art world. Depicting ordinary moments in extraordinary ways, Flohr's work is an intellectually artistic mastery of color, perspective, technique and vision.
Blazing a trail that is sure to influence the eyes of fine art collectors around the world, Flohr's work is also sure to impact other emerging artists for years to come. Michael Flohr is a young California artist, currently living and working in San Diego where he was born and raised. Recognizing his artistic aptitude at a very early age, Flohr's parents enrolled him in his first art class at the age of five. His family's perpetual encouragement and conviction in his talents led him to pursue a degree at the San Francisco Academy of Art College. At the academy, Flohr was able to experiment with all types of media and artistic styles. In 1999, Flohr's propensity for illustration was recognized by his acceptance into New York's Society of Illustrators, where he joined the ranks of legendary predecessors such as Norman Rockwell, Maxfield Parrish and N.C. Wyeth. He was awarded the Herman Lambert scholarship by the Society in the following year. Flohr graduated from the Academy of Art in 2000 and was honored with "Best of Show" for his painting titled, "Irish Coffee" at the Academy's spring exhibition that same year. Shortly thereafter, three of Flohr's paintings were selected for exhibition at the de Young Museum, San Francisco's oldest public museum located in Golden Gate Park. There, his work hung in the company of other master painters including one of Flohr's most revered inspirations, Claude Monet.

Boasting acceptance into a museum environment so early into his artistic career is a sure indication that this is an emerging artist to be watched. In a contemporary art world that has craved a fresh, new approach in the creation of effectual works of art, Flohr fills this void with his series of paintings that cover subject matter ranging from nightlife scenes, cityscapes, still lifes and figurative portraiture. Flohr's work is largely urban in content, frantic in execution yet solemn in interpretation. His paintings have an eerie ability to capture a fleeting moment, as if from a peripheral vision, resulting in a permanent "déjà vu" for the outsider looking in. Bordering the surreal, yet strangely familiar, Flohr's images capture what seem to be the artist's furious study of a gloriously regular moment in time. A moment it seems in which many can relate. The artist's paintings are a patchwork of avant-garde, impressionistic color exhibiting a stylistic fortitude that succeeds in redefining impressionism and abstract expressionism. Static movement is uniquely portrayed in his work through his brushstroke technique, masterful use of light and sumptuous, yet somber color.

Flohr states, "There is a flow that I try to keep in my paintings that evolves into a story of colors and movement that breathe together. A coronation of small, square strokes of premeditated color create the rhythm throughout a piece. Then I combine them with broad brush strokes that serve to 'marry' the elements together. I approach each canvas with 'aggressive subtleness'. My goal as a modern impressionist is to capture a gesture and a mood, not necessarily every pore on the face of a person depicted in one of my paintings. I want my figures to be a part of the painting, not the painting itself. They work together in the environment creating the movement and emotion in a piece. I like to show light and how it travels, where it lands and how it can change color. Light alone can change the look or the mood of a place." Ultimately, it is these qualities in Flohr's work that predominate in its appeal. Flohr claims his biggest inspiration in creating his art is everyday life. He protests, "I have a huge passion to record humanity on canvas, the good and the bad, it is all beautiful to me." He strives to express the familiar in his work and communicate a common thread among his subjects and his viewers. "I want to tell a story with substance," Flohr admits. And he achieves this with a genius of insight and artistic wherewithal unique to his work and a man of his young years.

A trip to Europe upon his graduation from the Academy was influential in his interest in European culture and proved to be an enlightening experience for the artist and his work. It was this experience that led him to pursue the desire to capture the nuances of social interaction, city nightlife and cityscapes as subject matter for his art. The artist states, "Seeing strangers intermingle in strange, new places is an inspiration to me. I am the guy that can be found out with friends in a café and notice a beautiful, warm, orange-violet light chipping on peoples' faces across the room. I am immediately distracted and thinking of ways to combine color and capture that moment in my next painting."

Flohr admits to being inspired by the all-important and influential works of impressionist artists throughout history, specifically: Pissaro, Monet, Manet and Degas. Like these artists, Flohr prefers to work in oils and comments, "I love oil paint because of its durability and the richness it brings to the canvas. I also believe that most people with an appreciation for art respect an artist's use of this classic medium." Flohr does not work with static models. Instead, he will sketch "in the moment" as a scene unfolds, most often with charcoal. Many times, his sketches will become works of art in themselves. On occasion, the artist will work with candid photographs. Capturing the visual clues in a scene is imperative to Flohr as he considers the "overwhelming choices of color" used to create his interpretation of an image. The artist comments, "Observation is everything for me. Whether it is seen, heard or read, it is all connected to that which can be processed into a visual." Michael Flohr's passion for his art parallels his passion for life. As he strives to be true to himself, his family and friends, he admits his fiancée, Melissa "is my biggest, new-found inspiration in a way I cannot describe." As he grows as a person and evolves as an artist, enthusiasts of the arts are sure to enjoy the fruits of his commentaries on the world around him – and in the end, the one that surrounds us all.